This page is about the adventure of building the world's lightest brushless FPV quadcopter:
pepperF1SH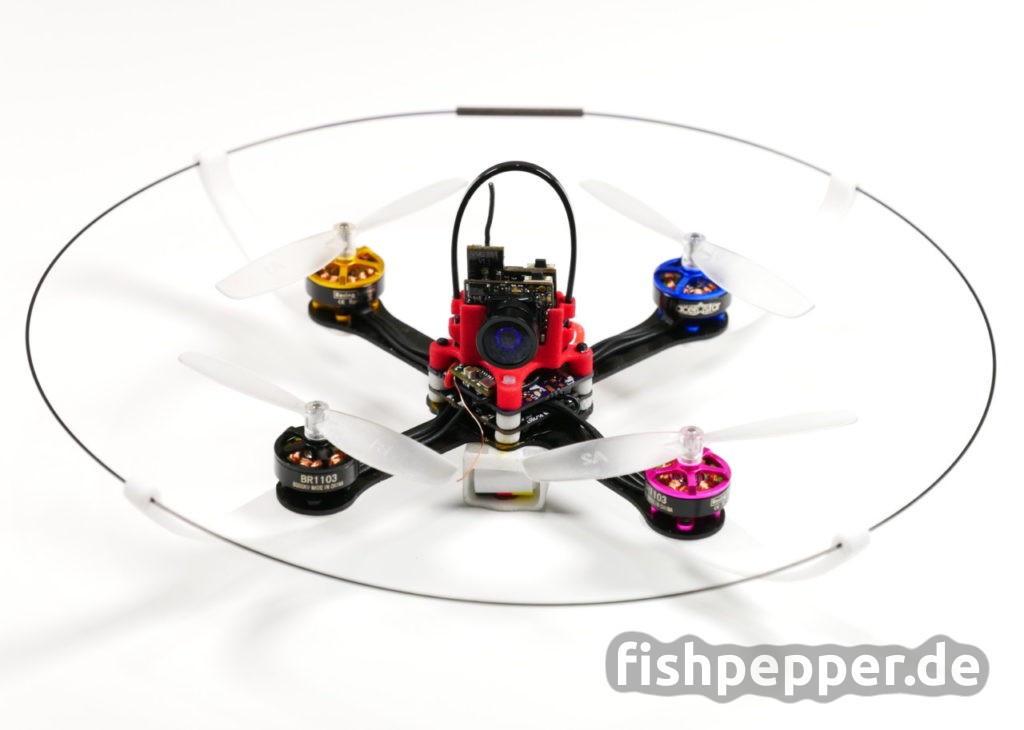 30.7g AUW!
How it all started
When winter was approaching germany I felt the irresistible desire to build something small and lightweight to get some indoor training. The Tinywhoop is nice, but if you are honest, brushed quadcopters suck at the latest when the first motor dies… So I need to go brushless and stay small! My LKTR120 (80g AUW) is nice for flying in the woods but not for indoor. So the target is something in the weight region of my Tinywhoop.
Fly it!
You want to fly one of my recent prototypes? Join the pepperF1SH world tour!
Features
Even though this is the lightest FPV quadcopter on earth, it does not lack any features you would miss otherwise:
F3 flight controller
Blackbox logging
integrated FrSky receiver with telemetry (!)
Current- and voltage sensor
BLHELI_S with DSHOT (!)
5.8GHz FPV setup
and of course it is betaflight compatible!
Different designs
The first design was based on a round shape and ended up with a weight of 32.4g including batteries. You can see design in this post. This frame was something special and looking really nice, however it was not as crash resistant as I wanted it to be. I also wanted to have the option to add a protective bumper cage. After evaluating different designs I decided to go for a classical X frame. I made three versions:
A 70-sized version for 48mm propellers (it is really really small as you can see here). It's nice for indoor but underpowered and quite inefficient with those 48mm triblades.
The best option is the 83-sized frame depicted at the top. This one is made for 56mm propellers and is the best compromise in size, efficiency and thrust ratio (around 3.3:1). Without the bumper cage you end up at ~30.6grams (!). The bumper cage adds ~2.4grams and really helps to fly in tight spaces.
There is also "the beast edition" with a diagonal size of 96mm. It is good for 65mm props and powerful and efficient as hell. It has the best thrust to weight ratio but is really big, nothing you want to fly in your house…
Parts
In order to build one pepperFISH you will need the following parts:
my tinyFISH FC
custom frame (released soon as open hw)
custom cam + battery mount (released soon as open hw)
some 32 AWG wire (black)
a hand full of Turnigy nano 1S 200mAh batteries
Right now you can not buy the FC and the ESC as they are custom designs made by myself. However you can use the published documentation, schematics, and design files to build it on your own. Unfortunately this requires some very fine pitch soldering… Sooner or later some chinese vendor will probably pick up the design and bring it to market. If you are such a vendor: Please do so, but make sure to stick to the open hardware license and publish all modifications under the same license and give proper credit. Drop me a note where your product can be bought and I will add a Link to this page.
Rocket science — sounds expensive….
This might sound more complicated as it actually is. Building the FC and the ESC is not that hard — when you have access to the right tools. I use a cheap stereo microscope for soldering. That helps a LOT! Additionally you need a lot of good flux, a good soldering station, and a cheap hot air station. If you have the toolset it is actually less expensive as you might think:
The parts for the flight controller and the ESC can be bought in single quantities for $40 and $20 respectively (e.g. at Farnell). The motors are available for $30, cam and vtx are $24, the frame can be cut for $10, the custom battery and camera mount is $4 on shapeways, and the batteries are $3 each. This sums up to roughly $150. This is less than what the new generation of ready to fly micro brushless copters are sold for right now. Once someone will manufacture the FC and ESC in series those prices will probably drop as well.
Tutorial
I will write a detailed, step-by-step build tutorial soon, so stay tuned. If you have built any my stuff i would be happy to see and hear how it turned out for you — so send me an email 😉
Status
The including battery and fpv setup! It flies very very well, more to follow soon! Right now you will have to refer to my current blog posts for more information. Once the testing is finished I will publish more details.
Save
Save
Save
Save
Save
Save
Save
Save
Save
Save
Save
Save