pepperF
1S

H

This post is the 14th in a series of posts about the adventure of building the world's lightest brushless FPV quadcopter: project pepperF1SH.

Time to dye the 3d printed camera and battery mount from shapeways. Those parts are laser sintered in polyamide (nylon) and can be colored using cloth dye. I previously dyed shapeways prints in red and that turned out quite good. This time i was using the color from the same series (Simplicol) but in yellow: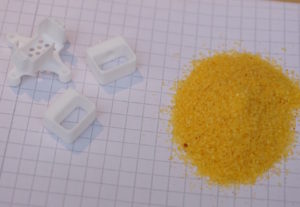 I mixed a hot water/dye solution following the instructions for clothing: 15g of dye solved in 600mL of hot water. I placed the mixture in an old cooking pot and held it close before boiling at around 90°C. The following photo shows the mixture and the part in a glass bottle: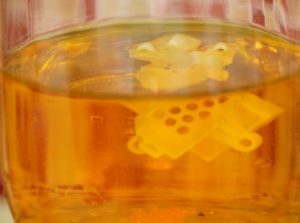 The coloring process took ages, this is the result after one hour (!). The red I had used before was much stronger and faster. I was really disappointed. I left the mixture on temperature for another hour. When I removed the parts they looked really ugly, more ocher than a bright dark yellow I was hoping for.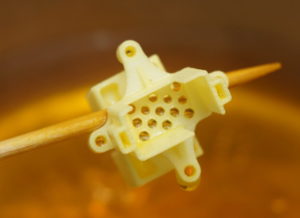 I was really upset and went to bed. When I checked the dry results in the morning I was pleasantly surprised that the color got much stronger and darker, see yourself: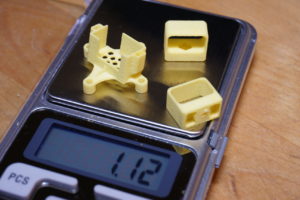 In the end the color turned out ok but not at the color I was expecting. Next time I will probably add some red dye to the mixture.