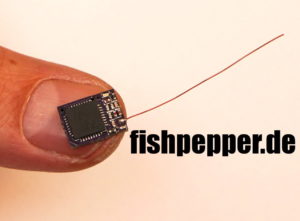 A year ago i started to write my own opensource firmware for the VD5M receiver from FrSky. The stock firmware had no failsafe handling and I wanted to learn something about the 8051 CPU architecture. Since then i ported the code to the D4R-ii and added a lot of features. My code can output CPPM or SBUS and supports hub telemetry forwarding and much more. Please note that i am not affiliated with FrSky, this is just my personal hobby project and I do it for learning and for fun.
When i started to build my TinyWhoop there was no lightweight FrSky compatible RX on the market. This is why i started to build uSKY. My version of the world's smallest FrSky compatible RX weights only 0.37g and measures 11.2mm x 8.51mm (the exact weight will be updated once i receive the 0.8mm PCBs). Nevertheless this RX has full analog and hub telemetry support and digital SBUS output. Of course it runs my opensource firmware and can be used with all your FrSky gear.

PCB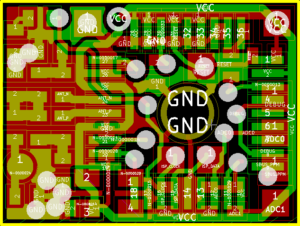 The PCB was designed to be as small as possible and can be soldered by hand. However the tightly packed 0402 sized components require some experience with soldering SMD components. All you need for soldering is a small tip soldering iron, lots of flux and a steady hand. There is no need for a reflow oven, the ground pad of the cc2510 transceiver will be soldered from the bottom through a big via. This is not meant for mass production, it's a hack to make it solder able by the experienced hobbyist.
Once i finished my testing of the current prototype i will post a link to my project on OSH-Park here. Make sure to order the boards in 0.8mm thickness to save some weight! The kicad design files will be released under an open hardware license soon. I just need further testing to make sure there is no design error on the hardware side.
The parts
Please refer to this google sheet for a list of the components I used for building the uSKY receiver. It includes some example part numbers for farnell and mouser. Please make sure to use high-Q high frequency parts where noted int this list.
The Design files
The design files are released under the CERN open hardware license v1.2. Before using the design files for commercial projects please make sure that you read and understand this license! You can use the files for your projects, just make sure to give proper credit (by e.g. linking to this page) and release all modifications you do to this design or work derivated from this under the same license.
You can find the design in the kicad file format on my github repository here. If you want to skip the hassle of rendering the gerber board files on your own you can simply skip this step and checkout and order the part from OSHPark:
OSHPark offers a really great quality for a ridiculous low price (it is 0,70$ for three copies!). Make sure to order the 0.8mm version in order to save some weight.
Component placement
Please refer to the following to pictures for component placing for soldering:
The ground pad of the CC2510 has to be soldered through the big via. Apply lots of flux and use the soldering iron to solder it from the other side. This is a hack to make this board solderable by the average hobbyist and this is NOT recommended for any serious designs 😉
Firmware
The uSKY RX runs my opensource OpenSky firmware. The master branch has support for building for this target (set TARGET=USKY).
Building & Flashing
I will add a tutorial the next days. For now stick to the guide how to flash the vd5m. Use TARGET=USKY for building the source and connect the CLK, DATA, RESET, GND, and VCC lines in the same way as on the vd5m.
Disclaimer
Please refer to my disclaimer that applies to all projects presented on this blog. Make sure that you do not violate any transmission laws in your country.
Save
Save
Save