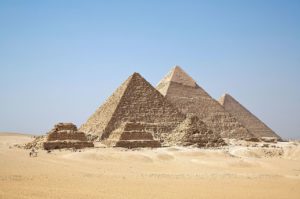 All Giza Pyramids
Ricardo Liberato, CC BY-SA 2.0
Today's priceless question is: What does the pepperF1SH, the world's lightest brushless quadcopter, and the Great Pyramid of Giza have in common? — Nope, I am neither talking about both being available as cheap clones from China nor about an illegal FPV flight next to this impressive building…
I recently got contacted by Shaun Whitehead from creationeer.co.uk. He was the project manager of the Djedi project that sent a miniature exploration robot into the southern shaft coming out of the Queen's Chamber. The goal of the mission was to find out what was hidden behind the blocking slab at the end of that narrow long shaft. A previous exploration by the National Geographic Society in 2002 used the "Pyramid Rover" to drill a small hole into the blocking slab and found — can you guess it? Unfortunately, another blocking slab… The pyramids do not give their secrets so easily!
In 2015 the Djedi team had their chance to send their robot into the shaft. Equipped with a tiny but flexible camera, their robot revealed what the previously unknown back of the first blocking slab looked like and gathered a lot of data in terms of pictures and measurements of the chamber behind it. You can read more about this fascinating story in this report.
Shaun, being an aerospace engineer, is involved in all kinds of crazy projects, often pushing the bounds of what people think is possible. He's also involved in a project that creates tiny satellites, called Thumbsats, that bring space exploration and experimentation within reach of student projects.
In one of his first communications to me he wrote that people laughed at him when he told them about his plans to do keyhole archaeology with small, foldable quadcopters through a hole that is not bigger than 20mm. Just by chance he stumbled upon my open hardware tinyfish FC and tinypepper ESC projects. He went back to his sketchboard, added some aerospace engineering knowhow, and came up with a working and flyable protototype of a foldable micro copter within two weeks. Right now his team is in the process of redesigning the flight controller and ESC in order to fit it on a single even smaller circuit board.
I am eager to learn more about the adventures of their crazy exploration robot!