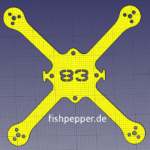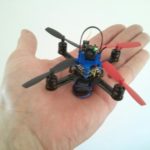 I just started to experiment with 0705 sized motors as I got some nice motors from boldclash. They came with a fishpepper.de logo *wohooo* This is great news, having motors with my own logo means I can now fly like a pro or better *cough* Well… certainly not…
I hacked together a quick test frame (83mm diagonal) for 0703 or 0705 sized motors with three mounting holes. It is meant for a tinyFISH fc / tinyPEPPER2S stack with 16x16mm hole to hole spacing and 56mm props. The frame features two rubber band "hooks" that facilitate a low cost and low weight battery mount. Make sure to add some sticky foam to cover the screw heads.
Shopping list:
My test setup weights 40.5g including all fpv gear and the battery. Not that bad 🙂 I am still not sure which KV to use on those motors… I have not yet test flown this setup.
You can find the frame ready to order on armattan: pepperFIISH 2S 0705. If you prefer cutting it on your own you can grab the source and DXF files from my github repository.