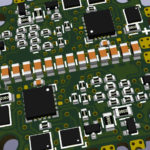 I am happy to announce that the next generation tinyPEPPER 4in1 ESC will be available shortly. The folks at Furious FPV are manufacturing and are going to sell the 2S version of my tinyPEPPER design soon, see their product page: FPV-0252 Fishpepper 4in1 ESC.
You might be yelling what has happened to the open hardware spirit. Well… My recent experience with Chinese copycats got me thinking. I was not asking for much, just proper credit. But it got even worse, they claimed my tinyPEPPER to be their own invention. You can find my tinyFISH FC relabeled as "their" invention F3D8.
So I am going to try a different approach this time. But wait, do not stop reading — you did not get the best part yet:
The design will be opensourced in some months!
So back to the topic: This flea weight can run on 1S or 2S and is great for tiny brushless quadcopters. The 38g 2S pepperFIISH that I have test flown previously used an early prototype of the same ESC design. With lighter motors and some optimizations I am comfortable that we will see 30-35g copters running on 2S in the future!