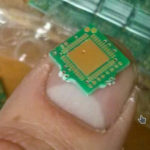 The last weeks have been quite busy, the move is still not completed and most of my gear is still in cardboard boxes — phew…
Nevertheless I found some time to work on my tinyOSD project. Once assembled this thing weights only 0.4g. The best part: It does not use this glowing hot max7456 chipset! Instead of wasting 120mA idle current as the max7456, my board draws ~10mA under full load. The current prototype measures ~11 x 11mm.
Keep in mind that this is an early prototype. Custom animations and pilot logos work, the sticks can be rendered nicely as an overlay and I can fit at least 35 x 13 characters on the screen using my custom font. I wrote some preliminary betaflight integration code, you can already do all the stuff that you are used to do with the recent integrated osd solutions. The thing will be easy to integrate, the only connection required is a single uart port.
I just uploaded a short demonstration on my youtube channel:
The recording/youtube compression makes it look quite bad, it looks way better inside the goggles. Future revisions will also fix some flickering issues.
This OSD is just a small step to the main project: A 16x16mm OSD/VTX combination with full betaflight integration, channel selection and pitmode. I have some more fancy stuff in the works — stay tuned for more!