Well, it finally happened. China took one of my designs, removed my logos, renamed it (what was wrong with tinyFISH FC?), and started selling it as their creation: The "Racerstar" F3D8!

But let's start from the beginning: On November the 21st 2016 I started to blog about my tinyFISH FC. I developed it because I needed something as small and lightweight as it can get for my 30g 1S pepperFISH fpv quadcopter. I shared all design files with the world and wrote instructions on how to assemble and build them on your own. I released the files under the CERN open hardware license. This license allows commercial reproduction — which I am fine with! But not giving me credit and selling it as their own F3D8 design makes me sad. Was it that hard to keep the fishpepper logo?? Well, they did it with my 1S 4in1 ESC as well (they relabeled it to star4 — I liked tinyPEPPER more).
Are you still not convinced that this is a tinyFISH ripoff? Well, have a look how it describes itself when connected to the betaflight configurator — smells fishy (lol) :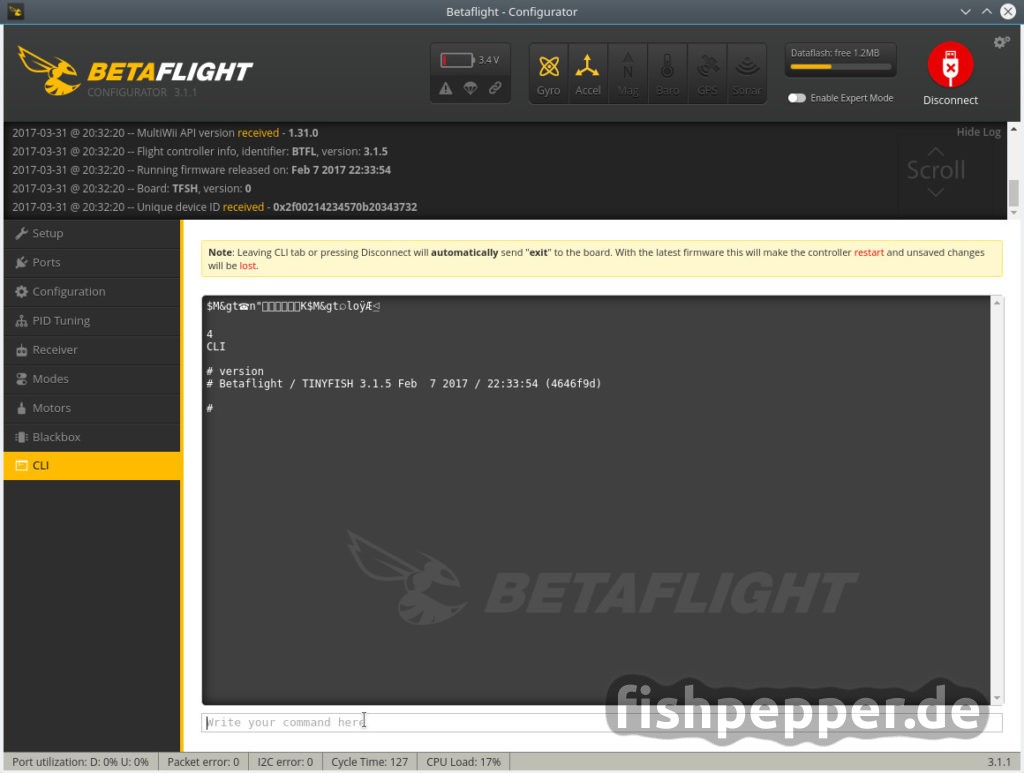 Alright, the F3D8 board (all racerstar design, you remember?) uses the same firmware as my tinyFISH FC? — Surprise, surprise…
The funny (?) thing is that they seem not to have a clue what they sell. Their FC is rated at 1S, whereas my design is tested on 2S and should be good on 3S as well. Maybe they swapped the voltage regulator for a cheaper chinese version that might blow up — who knows.They also promote it as "using ICM-20608-G gyroscope and gyro". Before I received my cloned copy I was wondering how they managed to fit that to the pad layout of the MPU6000 that the board uses — surprise again, my "racerstar" f3d8 board came with a MPU6000… Let's hope those boards support at least 2S — I am working on a 2S version of my ESC…
Be careful with their star4 ESC and their description. Some of the product images on banggood have the pinout for the lipo connection swapped… This will give you some nice smoke if you follow their instruction. Let's hope they have at least made the boards in 2Oz copper and used good and powerful mosfets.
There are lots of comments that those are ripoffs of my work on the bangood forum, thanks for posting there! I really appreciate your support! Good to know that there are people that care about that stuff.
There are also some good news, I got mails from some shops that will start selling those boards soon with giving proper credit. Some of them seem to have bought from the same batch of PCBs with the logo removed. But they give credits on their product page. I will add them to the where to buy section soon so that you can buy those FCs from those that respect others work.
Racerstar if it happens that you read this, contact me! I already wrote you several mails to your business contact adress — with no success 🙁