This post was last edited on 1st of April
I recently ordered a set of Pagoda antennas on SeeedStudio. It is ridiculous cheap, 160 antenna sets for $40 plus importing tax. I can crash my copter for years now without ever having to buy a new antenna — finally!
Having a solid background in microwave engineering and spacecraft technologies, I hooked one of the pagoda antennas up to my  5-20GHz Keysight network analyzer I bought at walmart recently.  Marten did a really good job on the design. But i thought I can do better! I proudly present:
THE
t

r

i

p

p

l

e

G

O

D

A

This thing is a masterpiece of engineering. It takes you twice the time to assemble but you get three times the distance! So now it is time to build your own. The best thing is that you can use the normal pagoda PCBs for the design, you just need several sets for one antenna: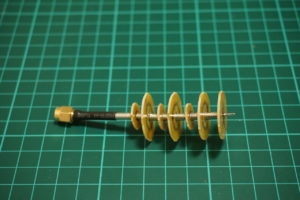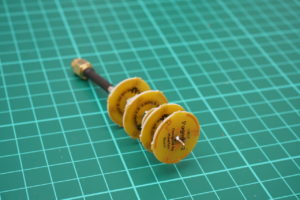 Please refer to the original assembly instruction for the correct spacing. However it seems not to be that important with this stacking method. One thing is important: Make sure to keep the wire sticking out at the top. This has to be exactly lambda/8 (1.4. cm) in length!
When I hooked those antennas to the network analyzer I was very pleased to see a SWR ratio of ~0.74 — amazing! Let's see how long it takes this time for china to clone an opensource design and sell it as their own (r**cerstar are you reading this?) — Let's hope they will give proper credit to the inventor this time!
And now enough read for today, time to go out for some fpv flying!