pepperF
1S

H

This post is the fourth in a series of posts about the adventure of building the world's lightest brushless FPV quadcopter: project pepperF1SH.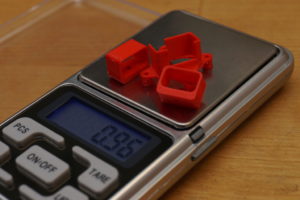 I designed a small and lightweight camera and battery holder. The camera and vtx combination will be mounted on top of the ESC and FC stack. A real pro does not fly without a tilted camera… At least i was told so. And therefore the design has a camera tilt angle of whopping 10.0 degrees (!) — yay!
The battery holder will be placed below the cfk frame and is held by the same screws as the before mentioned stack. The overall weight for these mounting brackets is 0.96grams.
stay tuned for more 😉