pepperF
1S

H

This post is the eighth in a series of posts about the adventure of building the world's lightest brushless FPV quadcopter: project pepperF1SH.

I did not like the design from my previous post at all. I really want to keep the round design impression intact, the side bars just did not look right. Therefore I redesigned the frame a bit: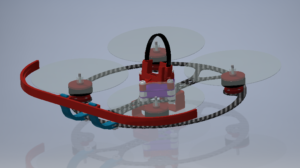 The side bars are gone and the center became thicker with a honeycomb pattern. Let's hope this gives a bit more stability. I also experimented a bit with different bumper designs. The first turned out to bulky and ugly, the second looked better but was to heavy and ugly as (w/h)ell. The design shown above is the third iteration, not that ugly any more…
I will have to see how stable it turns out. It was designed to be printed in 3 parts in order to keep the 3d printed layers in the right direction for maximum stress absorption. I might be able to thin this part a bit more, first i need to print and test it. The bumper weight is calculated at ~2.3grams — not that bad (but not that nice either).