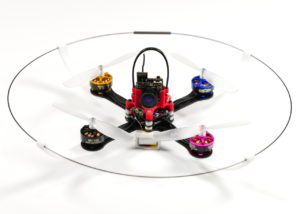 I just uploaded the design files for the pepperF1SH to armattan productions. I ordered frames designed by others in the past, they come in very good quality and the shipping time to germany is quite fast. I think they ship from Taiwan.
You can visit my store and buy my pepperF1SH designs following this link. When you buy one of those I receive a little commission that helps me to bring you all the crazy stuff you find on this website. If you want to skip that part or just want to cut the frames on your own, feel free to grab the open source design files or the compoled dxf files from the pepperF1SH github repository. The source files can be opened and edited in FreeCAD 0.16.
As for all my open hardware projects make sure to read and understand the CERN Open Hardware license. You can use the frame designs commercially but every modification you make has to be published under the very same license and you will have to give proper credit e.g. by linking to my blog fishpepper.de.
The following frame designs are available:
pepperF1SH X70
MOTOR+PROPS | 10000KV + 48mm triblades
RATING      | Small but lame + inefficient & short flight
TTW RATIO   | ~2.7:1
FLIGHTIME   | ~2-3min
AUW         | 30.5g
pepperFISH X83
MOTOR+PROP | 8000KV + 56mm propellers
RATING     | The best option. Everybody loved this so far!
TTW RATIO  | ~3.3:1
FLIGHTTIME | >4min
AUW        | 30.7g
pepperFISH X96
MOTOR+PROP | 8000KV + 65mm propellers 
RATING     | HUGE and powerful, make sure to live in a castle
TTW RATIO  | ~4:1
FLIGHTTIME | should be around 4min
AUW        | 31.5g
I can really recommend to build the 83 sized frame. It is the best compromise.
Have fun!