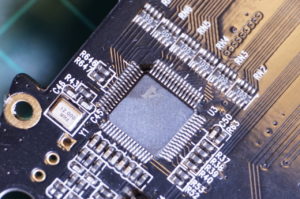 Remember my post with the Eachine EV100 disassembly pictures? I was asking for help to identify the video decoder chip… It was this rcgroups post by Flycry who gave the decisive proof. He was suggesting that this is an Mstar MST7336. The logo looks good but the pin count did not match (100 vs 64) — but wait… When I took the PCB picture I knew that I had seen that logo before but I could not remember where… Digging deeper using the Mstar hint it became quite obvious where I had seen that Mstar logo before. And you will not guess where: I had seen it in a blog post about an Eachine EV800 disassembly. DOH! Stupid me…
I would guess that the EV100 uses the MST706 as well. UPDATE: JohnG1 posted a picture of his pcb. You can clearly identify the MST706 chip! So far I have only found the MST706 short datasheet. This chip is responsible for taking the analog video from the receiver and converting it into digital data that can be fed into a digital display device such as LCD monitors. Let's have a look at the datasheet specs:
Small Size LCD TV Processor with video decoder
Comes in a TQFP64 package
PAL, NTSC, and SECAM support
Supports 480i (NTSC) and 576i (PAL) input
Several filters and image enhancement functions
Gamma adjustment
Image rescaling function
The last part is really interesting. In one of my previous posts I figured out which display module is built into this device. That display features a resolution of 720x540px. In order to fit NTSC and PAL to this screen, both will have to be scaled or cropped. It seems like something is not done right on the EV100, both signals seem to be cropped and loosing e.g. OSD information. It seems like the the MST706 chipset supports rescaling of the video. This means that there is hope that the image cropping problem can be fixed in firmware by configuring and using the rescaling feature properly for both NTSC and PAL.
I could not find a detailed manual for the MST706, however there is a detailed one for the MST703 that probably has similar features (206 pages). So let's have a deeper look on that one: Page 20 states a set of HSR and VSR scaling registers. It seems like the picture width can only be scaled down by the HSR registers. However, the VSR registers allow to shrink and enlarge the image height. Even though this means the height to width ratio will not be 100% correct, I would prefer this over cropped OSD information all the time. Most likely this will also degrade the image quality a bit as the scaling will introduce some blur. Please keep in mind that this is only true for the MST703 while the EV100 uses a MST706. The feature set might be a bit different for this chip. I just skimmed the text of the datasheet, I have not used those chips before and can not tell you how the scaling works out in reality.
With this sorted out I am wondering what the FPGA is being used for. It seems like I was right about RGB888 (= 8 Bit for red, green, and blue) being used between the video decoder and the FPGA. Just recently I got hold of the datasheet for the display panel used in the EV100 (I will feature this datasheet soon). As it turns out the display requires the data to be in the YCbCr422 format. The conversion between both formats is not straightforward to implement, YCbCr works quite differently as the RGB color space that you are used to. There is also something more special going on with YCbCr422: That format uses a technique called chroma subsampling. The Y value represents the luma information and is transferred with every pixel at a high bandwidth. This keeps all sharp contours and corners intact. The two chroma components (basically the color information) is transfered at the half resolution. This saves bandwidth and is not causing much image degradation as the human visual system is more sensitive to changes in brightness as in changes in color. Some people reported that e.g. the grass switches from green to bright pink on some occasions. This might have to do with some colorspace transformation issues.
That's it for now. Stay tuned for more!
A list of previous and newer posts regarding the EV100 can be found in this list: