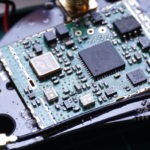 Some more news on the previously hyped the $99 Eachine EV100 FPV goggle. Yesterday was bugfixing time (the distorted and gray bars are history!), today I found out a new tiny bit on the inner workings of this thing. This post is about the video receiver module.
When I first opened the goggles and did the diversity analysis I was surprised and shocked at the same time. It seemed like someone really put a lot of effort into the receiver circuity, even though the "diversity" feature was quite a bad idea. The input stage with all the filtering looks quite nice, even though I have not analyzed how well this works. I was a bit puzzled about the fact that there was an additional microcontroller on the receiver PCB itself. The goggles main CPU should have been powerful enough to do the switching as well.
Well, I now know the answer to this: This is a ready made module, it was not built nor designed by eachine. How I got to know this? The brave user Ollzer on rcgroups removed his module and there was a marking on the back. It reads SP338RX. Some google foo later and it was obvious that this receiver PCB is in fact a Sinopine SP338RX. You can find the datasheet here.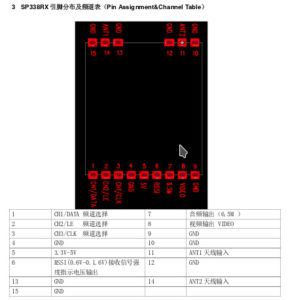 It looks like that most of my guessed pinout was correct, only pin 9 is in fact GND and not the second audio channel as I had guessed. Too bad the datasheet has no additional information regarding the diversity feature. Now I am wondering why Eachine is using this module without the shielded metal lid that features all Sinopine offers I found on aliexpress… Another mysterious thing on this device that we will probably never get to know.
A list of previous and newer posts regarding the EV100 can be found in this list: