Roughly one year ago I started to work on the 1S tinyPEPPER ESC. At first, I did not want to design an ESC on my own. I had just finished my first tinyFISH FC  PCB routing and was browsing banggood for a tiny and lightweight 1S ESC. To my surprise I could not find anything suitable. They were either bulky, still running non-S BLHELI, unbelievable expensive, and not the 4in1 solution I was looking for.
I was quite upset. At that time I was about to design my ultralight 1S pepperFISH fpv quadcopter which should turn out quite nicely with only 30.4g AUW including the battery in the end. At that time, nobody had ever built something brushless that light and nobody thought of a 1S quadcopter being that agile. The hyped brushed tinyWHOOP was in the same weight region and was flying like a sack of rotten potatoes, killing those poor brushed motors every x hours of flight time. Long story short: I ended up doing an 4in1 1S ESC design as well, released it as open hardware, and got cloned without proper credits all over china. I was quite upset and decided to go another route with my 2S design that followed up some months later. Do not worry, it will become open hardware in some month as well, but in the meantime it is only sold by furiousFPV.
So whats next? Well… I got busy with a new ESC prototype. Why? Because you can't buy what I want to do next… But more on that soon 😉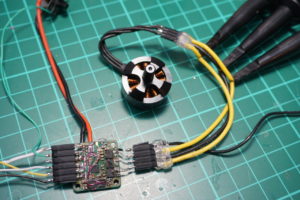 So what does this picture show? This PCB is going to be a 4in1 ESC as well. Basically all specs have been raised quite a bit (again, more on that soon… chinese copycats, you know) while it is still a 16x16mm spaced PCB with real 20x20mm outer dimensions! You can see the partially soldered ESC prototype on the lower left connected to my trustworthy EMAX 1806 motor that was used for testing of all the previous ESC prototypes. There are test clips on the top that are the oscilloscope probes I use to observe the motor phase voltages and the pins on the left, that connect to the mess of wires, are the debugger and programming connection.
I just finished soldering 1/4th of the first prototype PCB and finished a BLHELI port. If you might be wondering what the most rewarding picture this evening looked like? It was this scope picture: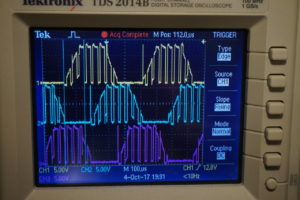 This, in combination with the brushless motor spinning up smoothly, was the moment I finally got all quirks sorted out. All three motor phases are generated as intended and the motor started up and was running smooth as silk. And the best part: Even though it was terribly late there was no magic smoke involved — yay! Time to call it a day.
I will mount and flight test a complete 4in1 ESC soon. You can also expect an all new micro frame design as well. As usual: More details on this will follow soon. Stay tuned 😉