Even though my newest toy, the 32.4g brushless fpv copter pepperF1SH is not using circular polarized antennas, I started preparations for the next outdoor racing season. After seeing Maartens nice Pagoda antenna design, I realized that I will never again build those oldscool timewastingwirecage-antennas… So I needed some pagoda antenna PCBSs.
Joined by some friends we ordered a whole bunch antenna pcbs in china… Those will be enough for ~180 antennas — ouch….
So why did we order that many? It's cheaper when you buy large quantities! I made some modifications to Maartens brilliant python script to panelize the antenna design. This allowed us to have 9 PCBs on a single 10cm x 10cm sheet: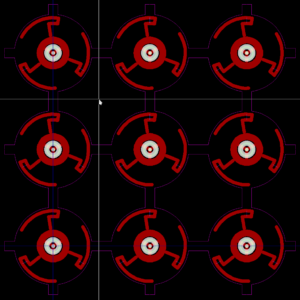 This way it is possible to order very very cheap in china. There are breakaway drill holes on the connecting tabs, it should be quite easy to seperate them. At least that is the plan — fingers crossed. Additionally we ordered ready made RG402 extension cables (13 EUR for 10 pieces, see this ebay auction) that we are going to cut in half.
You can find the modified python script on my pagoda github repository. Please note that this is untested, we just ordered the stuff on elecrow. I will let you know how it turned out once they arrive.
UPDATE: see my post how the antenna PCBs turned out.
UDPATE2: see this post on how to order the antennas on Seeedstdio