Some time ago I ordered some Pagoda FPV antennas PCBs on elecrow. I modified Maartens ingenious python script to render multiple antennas in a 3×3 grid and into one single gerber file. My script added small breakaway tabs and they worked perfectly. The single PCBs snap away easily. A picture is worth a thousands words: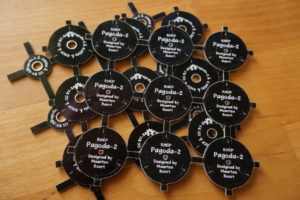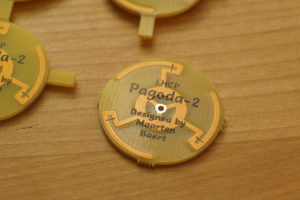 Unfortunately I used python2 to render the gerber files… The script of Maarten was meant to run on python3. My gerber files had some bad geometries and have the inner rings a fraction too small. I hope this will not affect the antenna characteristics to much.
I recently updated my script to render a 4×4 grid of antennas. When you order on seedstudio you can get 160 antennas for $ 30 + shipping! Make sure to use the proper PCB thickness when you order those.
Make sure to grab some RG401 cable, I was lazy and ordered pre-soldered dual end pigtails on ebay. This auction is a bargain, ~13 Euro for a set of 10 pigtails (= 20 antennas).
Now I need to find some time to build some of these antennas…
UDPATE: see this post on how to order the antennas on Seeedstdio