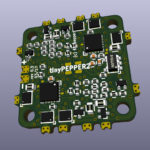 Some of you might remember the post when I announced the tinypepper 2S version. I can hardly believe that nearly a full year has passed since then. At the time I had the design finished I was a "bit" upset by the fact that some chinese companies sold clones of my previous work as their invention. I did not ask for much, just giving proper credit. Well, I might have been asking for too much…
With a working 2S prototype sitting on my desk and lots of people asking when and where they can buy this thing I was caught in a dilemma: On the one hand I really, really love open source software and hardware. On the other hand I do not want these copycats to make thousands of dollars by ripping off my design. I then thought about an alternate approach. I talked to the guys from furious FPV and we sorted out something where everybody would profit: They would get the exclusive license to manufacture the tinyPEPPER 2S for the first few months and I would open-source the design a bit later on. I also got a small compensation that allows me to run this blog and work on some more crazy stuff in the future.
Originally I thought of releasing the files last Christmas but I got busy with other stuff and family things. But now the time has finally come: I am releasing my tinyPEPPER2 as Open Hardware!

Specifications:
If you are new to this blog you might be wondering what makes the tinyPEPPER2S special? Well, at the time it was designed, it was probably the smallest 4in1 BLHELI_S ESC that allowed 2S operation in a 20x20mm footprint. Even though this thing is really tiny, it has all the features you expect nowadays from a state-of-the-art ESC. It has the same dimensions as my tinyFISH FC and both fit perfectly into a low profile stack.
16x16mm M2 hole-to-hole spacing (20x20mm outer dimension)
Total weight of 1.4g (!)
BLHeli_S
DSHOT600
Regenerative breaking
4.8A continuous current
1S and 2S capable (HV is also inside the specs)
Open hardware + open source software
Please note that this board is for 1-2S operation only. Do not even try more than 2S, the board will immediately release all its magic smoke and stop working.
Open Hardware
Please refer to post "tinyPEPPER2 – how to build your own" for a detailed list of components and links to the open hardware design files. This should give you all the information you need to build your own tinyPEPPER2 ESC. If something is missing, please let me know!
Changelog:
v0.4:
– first open source release
You might wonder why I release all this for free. The reason is simple, I just love open source stuff. Most of my knowledge is based on tinkering with open source stuff since my childhood. This is my way to give something back to the community so please respect the license and release all work you do based on my design under the same license.
Please note that you need a recent version of Kicad to open the files. I compiled my own binaries from Kicad commit hash #efdfaeb.
Flashing
You will not need a special programmer for this, any USB to serial converter will do. The EFM8 devices come with a bootloader and I wrote a small python script that will do the flashing. Have a look at this tutorial on how to flash BLHeli_S to the tinyPEPPER ESC, the process is quite similar for the 2S version. Just make sure to use the proper hex file: S_H_50_*.HEX (EFM8BB2) or S_L_50_*.hex (EFM8BB1). The initial testing was done with BLHELI_S revision 16.6, but the current 16.7 version should work as well (S_H_50_REV16_7.HEX).
Where to buy
I do not sell this. You can not buy it from me. With the release of the schematics and design files you can now build your own. However this makes sense for educational purposes, as buying it ready-made is much cheaper than buying the parts alone. The folks at furious FPV have been selling this ESC exclusively for the last several months. As the past has shown, you can expect clones (without, or hopefully WITH proper credit this time) to pop up soon. If you are a hardware manufacturer reading this: Please give proper credit and DO NOT remove my logos from the pcb artwork. Thanks.
Here is a list of vendors that picked up the design (more will come):
Furious FPV FPV-0252 Fishpepper 4in1 ESC
News
Here is a list of recent blog posts covering the latest status of my tinyPEPPER ESC project:
Right now there is only a collection of single posts, I will update this project page soon.
Disclaimer
Please refer to my disclaimer that applies to all projects presented on this blog.