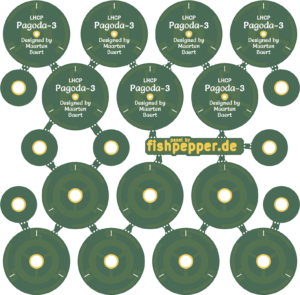 UPDATE2: a new panel and ordering instructions has been posted here. Enjoy 😉
UPDATE: Please do not submit this to seeed and elecrow. See the updated post here.

Recently I have been frequently asked to do an updated revision of my pagoda antenna panel for easy ordering. Maarten Baerts recently updated his great pagoda design. My previous article on how to order 160 antennas for 40 bucks was a great success and even got copied by several other blogs (if you read this, shame on you!).
Maarten has released the new design files for his revision 3 and 3B. The B version of this design is meant to be mounted inside a ABS shell. If you do not want to mount a shell you want to order the normal version. Adding a shell detunes the antenna slightly, Maarten has carefully tuned the B version to be spot-on when enclosed in an ABS shell.
The good news are that I managed to squeeze seven complete designs onto a single 10cm x 10cm PCB. The single antenna PCBs have small break away tabs, all you have to do is to break them apart by hand. This means by ordering the default set made of 10 copies you will receive 70 antenna sets for $4.90 ($11.68 shipped) from elecrow  (using their special green 2-layer offer). You can order the same amount for $4.90 ($14.80 shipped) from seeedstudio. As I have made good experience with seeed and I really like the ability to chose the pcb color on my own I will use their PCB service again.
Don't let the fact that you are probably never ordered a custom PCB from a manufacturing company scare you off, in fact it is no big deal. The chinese prices are so low that nothing can go wrong. Most likely you will not have to pay any import taxes as the items value is so low (e.g. <22 Euro for Germany). Just decide which pagoda design you want to have manufactured and follow this guide. I prepared panels for the 5800~MHz version of the revision 3 and 3B (ABS enclosure) in both polarizations for you:
Download the design you chose as a zip file from the list above and head over to seedstudio fusion. You can enlarge my preview images by clicking on them:
Log in into Seeedstudio fusion and click on this link to open up the fusion pcb ordering page
Click on "Add your gerber file" and select the zip file
Select the PCB color as you like
Close the preview and click "Add to Cart"
Open your cart and proceed with the checkout.
Shipping may vary where you live. As shipping is more expensive than the ordered items you can save even more by doing a group order together with some friends. It's easy to add multiple designs in different colors to your cart (only $4.90 per 10 copies each!). Simply repeat steps 2-6 multiple times.
Have a lot of fun and success with building your never ending supply of fpv antennas. Thanks to Maarten for sharing the pagoda design with the world! This post saved you roughly $400 by not buying ready made pagodas. In case you have some spare cash left, Maarten would certainly look forward for a donation 😉