This time, we had a tinyPEPPER ESC soldering party. Similar to the tinyFISH FC soldering party, we met with some friends and soldered a total of four tinyPEPPER ESCs.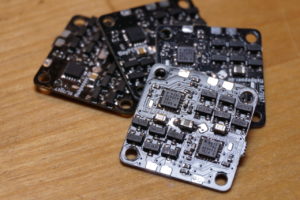 This time, we used boards from elecrow instead of OSHPark. The PCB quality is at a completely different level as OSHPark (worse…). See my comparison post here. Some boards needed rework on bad solder joints, this was probably not caused by the board quality. Even though there was no stop mask between the QFN pads, we had no shorts there.
All four boards have been flashed with BLHeli_S and passed the basic tests. The next step is to flight-test those boards and to publish all the details on how to make one on your own. Sorry for the delay, I do my best to publish it as soon as I finished the final tests!