In the previous tutorial we flashed the betaflight firmware into the STM32 of our flightcontroller, this time we will flash the tinyFISH FC receiver firmware. We are going to use the frsky compatible OpenSky firmware. You can now decide to download the latest version of OpenSky here and build the tinyfish target yourself (make TARGET=TINYFISH). Or you can download the latest release hex file from the release download page (download opensky_tinyfish_full.hex).
In order to flash this hex file into the receiver you will need a cc debugger or an arduino/rapsberry set up with special software. In this tutorial I am going to use the TI CC Debugger. Before we can start flashing we will have to connect the cc debugger to the CC2510 ISP port: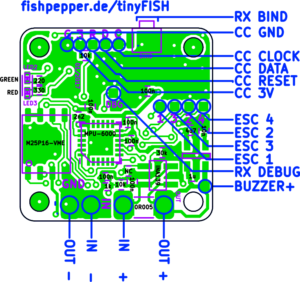 Please use the following connection scheme:
CC GND   -> CC DEBUGGER PIN 1 [GROUND       ]
CC CLOCK -> CC DEBUGGER PIN 3 [CLOCK        ]
CC DATA  -> CC DEBUGGER PIN 4 [DATA         ]
CC RESET -> CC DEBUGGER PIN 7 [RESET        ]
CC 3V    -> CC DEBUGGER PIN 2 [VOLTAGE SENSE]
Once connected make sure to power the FC by connecting 4V to the IN- and IN+ connection tabs. Press reset on the CC debugger, the CC debugger led should turn green. The following commands will download, build, and flash the latest OpenSky firmware for your tinyFISH FC:
git clone https://github.com/fishpepper/OpenSky.git
cd OpenSky
export TARGET=TINYFISH
make clean
make flash
In case you downloaded the pre-compiled hex file you can flash it using the TI cc debugger application or by executing
cc-tool -f -e -w opensky_tinyfish_full.hex
Both ways should give you a similar output as this:
Programmer: CC Debugger
Target: CC2510
Erasing flash...
Completed       
Writing flash (13 KB)...
Completed (1.45 s.)
Done! Your FC is flashed! Now disconnect the programmer and press the bind button (or short the pads on rev 0.1) while unplugging and reconnecting the power supply. Put your TX in bind mode. The red and green leds on the bottom of the fc should do some blinking and stop with a regular pattern. Power-cycle the FC again and switch your fc into normal mode, you should now see a steady pulsing green light (or red if you accidently swapped the leds on assembly 😉 ).