A micro 4ch charger for TinyWhoop and pepperF1SH batteries
I just got a new charger: It's a Hitec X4, also sold as SkyRC quattro micro: I bought the Hitec version as the color matches perfectly to my newest toy, my 32.4g brushless pepperF1SH quadcopter 😉 The price is around $40 (additionally you get 20% off on banggood right now, use "charger" as coupon code).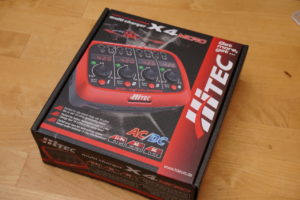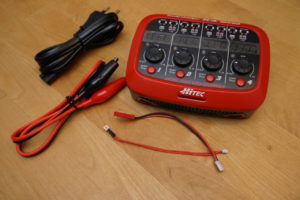 No matter if you choose the Hitec or the SkyRC one, both chargers are identical. Both can charge up to four small 1S LiPOs independent from each other at once!
Key facts:
Input Voltage: 110-240V AC or 11-15V DC (use your old 3-4S LiPOs!)
Output: 4 x 4W (4 channels, 0.1-1.0A each)
Connector: E-flite, Nine Eagles, Walkera, MX
Cables: JST and Picoblade adapter  + DC charge input cable
Weight: 280g
Size: 132 x 100 x 50mm
Even though this thing is tiny, it comes with a lot of features! You can set an individual charge current for each of the four channels. But the best part is that this tiny thing shows you a lot of data during charging. Each of the displays alternate between current cell voltage, charged capacity (!), and the momentary charge current.
The only disadvantage is that the MX charger port is NOT exactly the same as the picoblade used on TinyWhoop batteries! The MX connector uses a 1.5mm spacing instead of the 1.25mm of the picoblade plug, using this widens and damages the connector! DO NOT directly plug in batteries either use an adapter cable or modify the charger. You can follow my detailed modification tutorial. After that modification it is safe to put the TinyWhoop batteries directly into the charger as shown in this picture: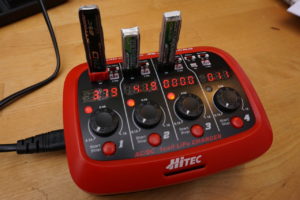 Once finished the charger shows you the cell voltage (4.2V obviously) and the total charged capacity. The later is a really good indicator how good the battery is and/or you have pushed the LiPO to far and discharged it close to it's capacity.
Another really neat feature is the DC input jack. You can use any 11-15V source to power the charger. Make sure the source can supply the maximum input current of ~1.5A. This source could be your cars' battery or an old LiPO.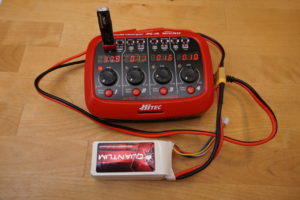 Your old 3S packs are a perfect match voltage wise. Different than stated elsewhere the charger will NOT give you an under voltage warning at 11Volts! Instead it keeps charging happily without any warning until the power supply reaches ~7.9V. At this point the under voltage detection kicks in an gives you fancy flashes and beeps. Discharging your 3S pack that low (~2.6V per cell) would probably damage it. So please make sure to use an external LiPO warner to monitor your pack!
Happy charging!