pepperF
1S

H

This post is the 13th in a series of posts about the adventure of building the world's lightest brushless FPV quadcopter: project pepperF1SH.

New CFK arrived today — time to assemble the next bumper cage prototype! The last cage design was 2.83 grams, this cage only weights 2.4g (frame alone is 2.87 grams):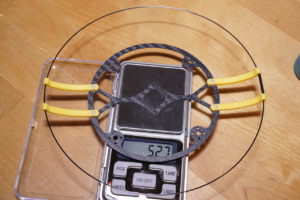 It is quite easy to assemble, take a 50cm round cfk rod, a matching cfk tube, and four printed holders. Still not 100% satisfied, I think I will have to modify the bumper holder to prevent twisting. I think I will move them to the motor mounts.