Why 1S???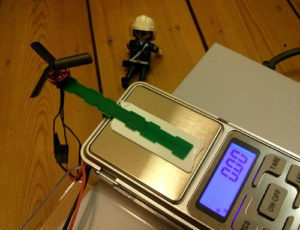 I am currently working on a tiny 20x20mm F3 based flight controller and a tiny ESC in the same dimensions. As this ESC will be only good for 1S operation, i did some thrust tests with the new Racerstar 1103 8000KV motor from Banggood.
I think my complete brushless setup will weight around 38g in total (2g FC + 2g ESC + 4×3.3g Motor + <4g props + ~10g battery + <4g cam+vtx + 2g frame). Probably less 😉
So my first try is the new Racerstar motor with 8000KV on 1S:
Decisions?!
Right now the ladybird props are my favorite. I fly them on my 80g LKTR120 and they are quite durable. I have some 4cm duct quadblades on the way so i might test them as well once they arrive. The Ladybirds are running at 24500rpm whereas the Hubsan triblades are running at 22700rpm under full throttle.
More Numbers!
In total those motors would give me a total current consumption of 6.4A (=32C for 205mAh Lipos) and a hovering current of roughly 2.4A (12C) — acceptable.
The magic number, the thrust to weight ratio will be roughly 2.5:1 — not that great :-\
Whats next?
Banggood just released a 10000KV version of that motor! Hooray — test will be updated once they arrive at my doorstep! When scaled linear i expect a thrust to weight of at least 3:1 which is not great but probably flyable indoor — stay tuned!
Update:
Not so good news for the 10000KV Motor: I did some preliminary tests. As expected the motor gives us more thrust. Approximately 31g on 1S (4.2V) using the Ladybird props. The bad news: It draws 2.5 amperes on full throttle and 1.9A on 24g thrust! In terms of efficiency it is way behind the 8000KV Version (12.6 g thrust/A compared to 14.75 g thrust/A). The good news are that the banggood page is wring, the motor is not heavier than the 8000KV Version — anyway i will build the first pepperF1SH with the 8000KV version.